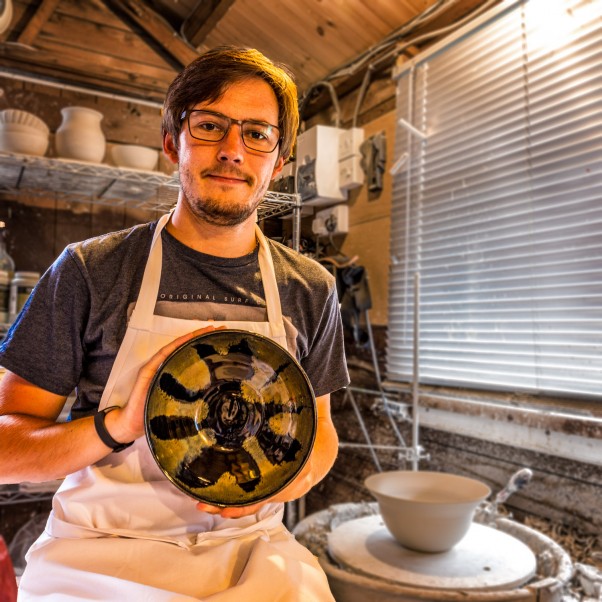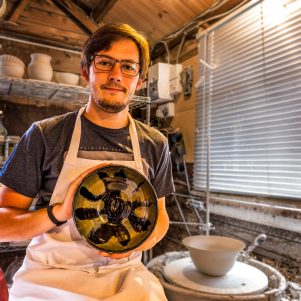 Thrown In stone was founded by Leeds based ceramic artist Gary in 2010 and produces a large range of unique handmade pottery items.
Mainly working with white Stoneware Gary produces unique functional and decorative pieces as well as small scale sculptural work. A wide range of techniques are used including wheel throwing, slab building, coiling and casting. Gary is particularly interested in colour and surface design and is constantly fascinated by how different glazes interact with each other to give a truly unique finish.
My love for the medium comes from every aspect of the process, from start to finish. A driving force is the satisfaction with the end product, and seeing each form come into being from just an idea. It is rare for a single person to start with a raw material and end with a truly wonderful product which you can touch, use and enjoy.

I love the unpredictability of working with clay and glazes. You can never tell exactly how a piece is going to turn out until you open the kiln after that final glaze firing. I dread the day I am no longer filled with excitement and a hint of apprehension when I open the kiln. If that day does come, I'll know it's time to move on.
Where to Buy
Thrown In Stone handmade ceramics ware can be purchased direct from the online shop or from Etsy. Thrown In Stone holds a permanent display at Our Handmade Collective, an independent gift shop specialising in handmade items situated within the Grand Arcade, Leeds City Centre. Thrown In Stone ceramics can also be found in the Handmade Gift Shop Halifax, located in the Piece Hall. Gary attends periodic arts and craft fairs in and around Leeds, West Yorkshire.